Etsy has come under fire lately due to inconsistent definitions on their policies. Etsy has always been about creating a marketplace for handmade artisans to sell their products. Shortly after I had re-joined Etsy with my new shop, there was a scandal concerning one of their featured artists - a woman who claimed to make furniture from reclaimed wood, but was really a reseller of products made in Indonesia. Etsy stated that her shop was allowed because it was a collective, which I'm sorry, I don't understand. How can you allow a person to sell products on Etsy that she had no hand in making in a Handmade marketplace?
Now, I realize that people will team up and have a shop together on Etsy. Husband and wife teams, mother and daughter teams, sisters, friends. That's fine because they are in the same area working together, making their products. One person doesn't handle the marketplace and one person handles the products. During the holidays, some shops will hire help for packaging and shipping. I have no problem with that. In fact, if I ever get that successful, I will be hiring my son to help me package products and send them out.
Every day, I see products on the front page that have no business being on Etsy. They are clearly machine fabricated products put on a chain and sold as handmade jewelry. This is one of the reasons that the jewelry category on Etsy is so saturated. Any person who can string beads on a chain in an interesting fashion can call herself a jewelry maker and claim her product is handmade. No, it isn't. Truly handmade jewelry is more stringing some charms on a chain. Unless you make the charms, it isn't handmade. You want to sell factory made charms - sell them as supplies.
Now, I have nothing against vintage sellers. But I don't want to be selling my handmade products next to them. There are marketplaces for vintage sellers - it's called EBAY! I want a marketplace for handmade artists only. Now, I do know people who take vintage products and remake them into beautiful new items. For example, April from BeaSewn (
http://www.etsy.com/shop/BeaSewn
) takes vintage fabrics and turns them into guest towels, aprons and other products. She searches for these fabrics and makes them into something entirely new. She is a handmade artist. This is one of her newer products (
http://www.etsy.com/listing/101530361/microwave-potato-bag-purple-and-pink
):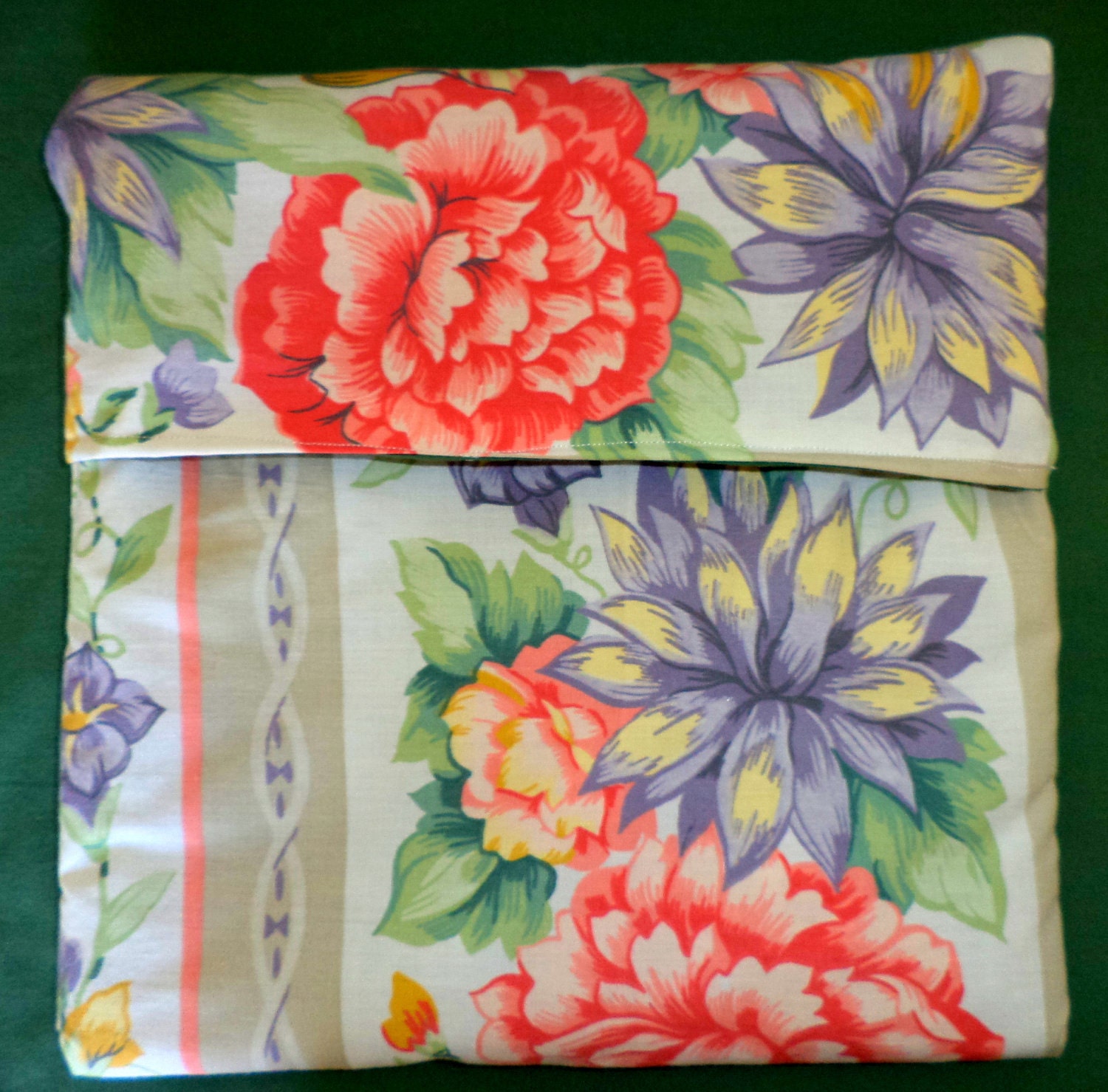 Simply gorgeous and original.
In a recent article on Wired.com, Rob Walker talks about upcoming changes at Etsy. (
http://www.wired.com/design/2012/09/etsy-goes-pro/
) He talks about a seller on Etsy who was so busy last year at Christmas, she barely saw her family and had thought about hiring help. She was hesitant, because she didn't want to violate Etsy's terms of use. She wonders if she had outgrown Etsy.
The article makes it seem like this is a bad thing. I don't think it is. If your product is so popular that you cannot keep up with orders without hiring help, you probably have outgrown Etsy. There is nothing wrong with that. Open up a website, and sell your products there. Hire your help. Keep growing until you have enough of an income, then open a brick and mortar shop. That is the American Dream - to own your own business and be successful. Why is it a bad thing to outgrow Etsy?
Etsy runs a series called "Quit Your Day Job" about successful Etsy sellers who have made Etsy their full-time job. I would love that, honestly, but I don't think I could ever make enough on Etsy to quit my day job. Unless of course, I raised my prices. I might do that if I start getting more orders than I can fill in a reasonable pace. Others I know on Etsy say that quitting your day job and running an Etsy shop full time is a pipe dream. I agree. I see my Etsy shop right now as a supplement to my current income.
Walker talks about changes coming to Etsy, mainly the option of wholeselling to a brick and mortar called West Elm. But, you have to apply to become a wholeseller. Another change coming is to allow sellers to use outside vendors to help manufacture part of their product. This is a slap in the face of anyone who takes pride in handmaking their product from start to finish. Yes, I don't spin my own yarn. But I take a supply and make something with it. I take a flip flop and make it completely indistinguishable from it's original look. This opens the door wide open for resellers to come in.
Yes, I have liked some of the changes that have come to Etsy. I am part of a team testing a size variation code for clothing. I am able to make 1 listing for my Vikings inspired Flip-Furs and have the buyer select what size they want. In most of my sales, the buyer has forgotten to tell me what size they want. No problem. I contact the buyer and ask them and don't start their pair of Flip-Furs until I receive an answer.
I feel Etsy is letting me down with these new changes. Wholeselling will be possible with the allowing the use of outside vendors to make part of your product. Etsy is thinking of one thing - their pocketbook. They don't care about the resellers because they get 20 cents for each listing, and a percentage of each sale. They want to keep the bigger shops from leaving, or "graduating", Etsy because of all the money these shops make. This hurts the newer or smaller shops. I feel Etsy doesn't care about shops like mine.
I am going to be taking steps to move away from Etsy. First, by offering all of my products on my blog. I will also be purchasing my own domain name. Another step I'm taking will be to offer my products on other websites, such as
http://craftshowcase.net/
(I'm on the front page here) and other exclusively handmade sites. I will keep my Etsy shop open until I can reasonably make enough money on these other sites to negate any sales I make on Etsy. I also want to keep my shop open on Etsy though the holiday season, just to see if I have an increase in sales.
Also, I will be making sure that my treasuries and features include handmade artists only. And I will make sure that these products are not obviously made in factories. I know I won't send a message to Etsy by myself, but I hope my stand will help other handmade artisans see that one voice can turn into many. Maybe we can find another fledgling site and make a good living selling on this new site.
Hoping you all have a great weekend. Please, please support handmade this holiday season. If not me, than someone else I support. I will create a list of handmade artisans soon, so you will be able to take your pick.
Always,